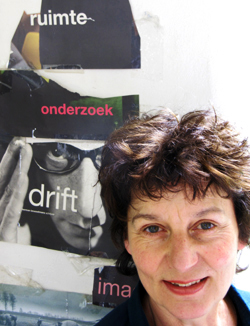 'Het is niet zo. Het is anders'
Met een onderzoekende blik bekijkt Lies Kortenhorst de wereld. Haar werkproces lokt nieuwe perspectieven uit. In haar tekeningen en schilderijen combineert zij een speelse houding met een dwarse poëtische ondertoon.

Samen met anderen ontwikkelt zij projecten. Op onorthodoxe wijze en op ongebruikelijke plaatsen worden artistieke en sociale vragen in beeld gebracht. Opvallend is hoe zij taal gebruikt. Uitspraken op straat of in gesprekken gehoord, worden in de openbare ruimte geplaatst. Ze creëren, losgeweekt uit hun context, ruimte voor de verbeelding.

Lies Kortenhorst (Heeten 1953) woont en werkt in Deventer.

'It is not so. It's different '
With an inquisitive eye Lies Kortenhorst observes the world. During the working process, new perspectives are generated. Her drawings and paintings show a playful attitude combined with a contrary poetic undertone.
Along with others she develops projects. In an unorthodox way and in unusual places artistic and social questions are visualized. Striking is how she uses language. Sayings, heard on the streets or in interviews are placed into public space. They create, wrenched from their context, room for imagination.

Lies Kortenhorst lives and works in Deventer, The Netherlands.