Een buurtkunstproject over leven tussen traditie en moderniteit english text below
In opdracht van het Kunstenlab Deventer 2006
In samenwerking met Bircan Savas, Nevin Yildiz, Ayse Kisa, Sercan Armut, Serdar Gurcan, Ercugrul Kocak, Brigitte Jansen. Met een bijdrage van Pilvi Takala.

Het theehuis is in de Turkse cultuur een belangrijke ontmoetingsplek voor mannen. De ruimtes zijn basic ingericht, vooral "not design". Mijn achterliggende vraag is wat jongeren denken over de theehuiscultuur. Is er behoefte aan een theehuis waar niet alleen mannen komen, maar ook vrouwen? In Theehuis Territoria werd de documentaire 'Women in kahves' van Pilvi Takala (1981 Helsinki) getoond. Takala bezoekt met drie Turkse vrouwen verschillende theehuizen in Istanbul. Ze drinken thee en spelen rummycup, net zoals de andere bezoekers. Met een geheime camera zijn de reacties van de vaste bezoekers opgenomen. Takala maakte deze video documentaire ter gelegenheid van de Biënnale van Istanbul in 2005. Op het Deltaplein in Deventer was Theehuis Territoria geopend in een leegstaande winkel. Het theehuis werd druk bezocht. Een andere vorm voor een ontmoetingsplek werd gedurende drie dagen werkelijkheid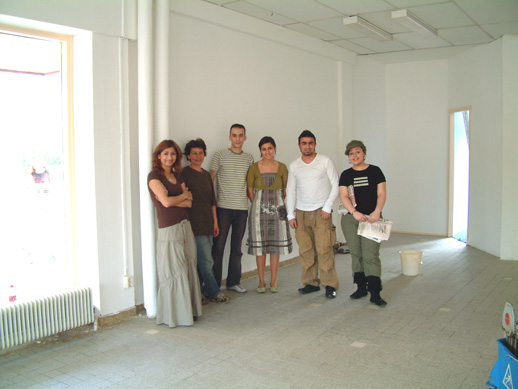 Het team van Theehuis Territoria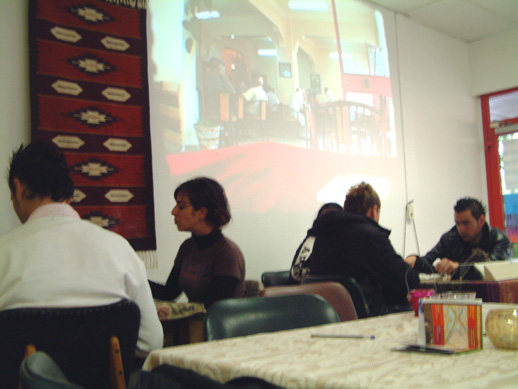 Theehuis Territoria geopend met op de wand de video van Pilvi Takala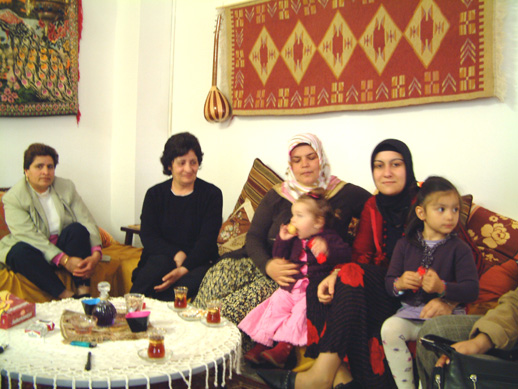 Bezoekers in de lounge van Theehuis Territoria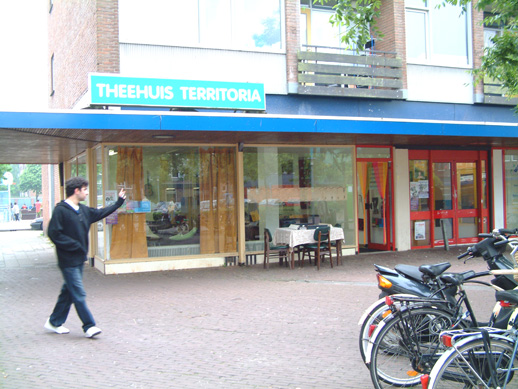 Theehuis Territoria al snel een vertrouwd beeld
Tea House Territoria

A neighbourhood art-project about life between tradition and modernity. Commissioned by Kunstenlab Deventer 2006
In collaboration with Bircan Savas, Nevin Yildiz, Ayse Ercugrul, S Sadeghi Sadeghi Gurcan, Kisa, Kocak and Brigitte Jansen. With a contribution of Pilvi Takala.
The tea house is in Turkish culture an important meeting place for men. The cafe's are set up basic, look 'not design'. My question is what young people think about the tea house culture. Is there a need for a tea house which not only men can visit? In Tea house Territoria the documentary ' Women in kahves ' of Pilvi Takala (1981 Helsinki) was shown. Takala is visiting with three Turkish women various tea houses in Istanbul. They drink tea and play RummyCub, just as the other visitors. With a secret camera the reactions of the regular visitors are recorded. Takala made this video documentary on the occasion of the Istanbul Biennial in 2005. 
On the Delta square in Deventer Tea House Territoria was opened in an abandoned store. The tea house was visited by men and women. Another form for a meeting place became reality for three days.